Our Leadership
Our Rector
The Rev. Christopher Wendell began serving as St. Paul's rector in the summer of 2011. His ministry includes preaching and leading worship, providing pastoral care to all ages, welcoming newcomers and visitors, and working with the lay leadership in the administration and oversight of the parish. As part of his ministry, Chris also is an active member of the Bedford Interfaith Clergy Network and provides pastoral care to nearby institutions such as MCI-Concord and Carleton Willard Village. He has served in various leadership roles in the Episcopal Diocese of Massachusetts over the past decade, and is currently a General Convention Deputy. Before coming to St. Paul's, Chris spent four years as an associate rector at St. Andrew's Episcopal Church in Wellesley. Prior to attending seminary, he worked for a regional theater company as a directing/producing assistant. Chris is a native of San Francisco and a graduate of Princeton University and the Episcopal Divinity School. Chris and his wife, Kristen, an associate professor of engineering education, live in Bedford with their two boys. When not at church, Chris enjoys curling in the winter, the Jersey Shore in the summer, gardening in the spring, apple picking in the fall, and crossword puzzles all year round!
Our
Assistant Rector
The Rev. Rachel Wildman began as St. Paul's Curate in the summer of 2015 after having been the parish's seminarian intern for two years prior. She was promoted to Assistant Rector in 2018. Rachel's ministry is part-time, and is focused on the Christian Education program and on serving as a spiritual companion to the parish's active Women's Group. In addition, she shares in preaching, worship leadership, and pastoral care duties with Rev. Chris. A graduate of Episcopal Divinity School, she, her husband, David, and their two children live in Somerville, Massachusetts. Born and raised in Concord, NH, Rachel explored parts south as she pursued her former career as a research scientist in the field of academic medicine, and is thrilled to be back in New England. In her spare time, Rachel enjoys reading, rediscovering her love of the piano through lessons with the parish's music minister, Michael, and binge-watching PBS mini-series and embarrassing reality TV shows.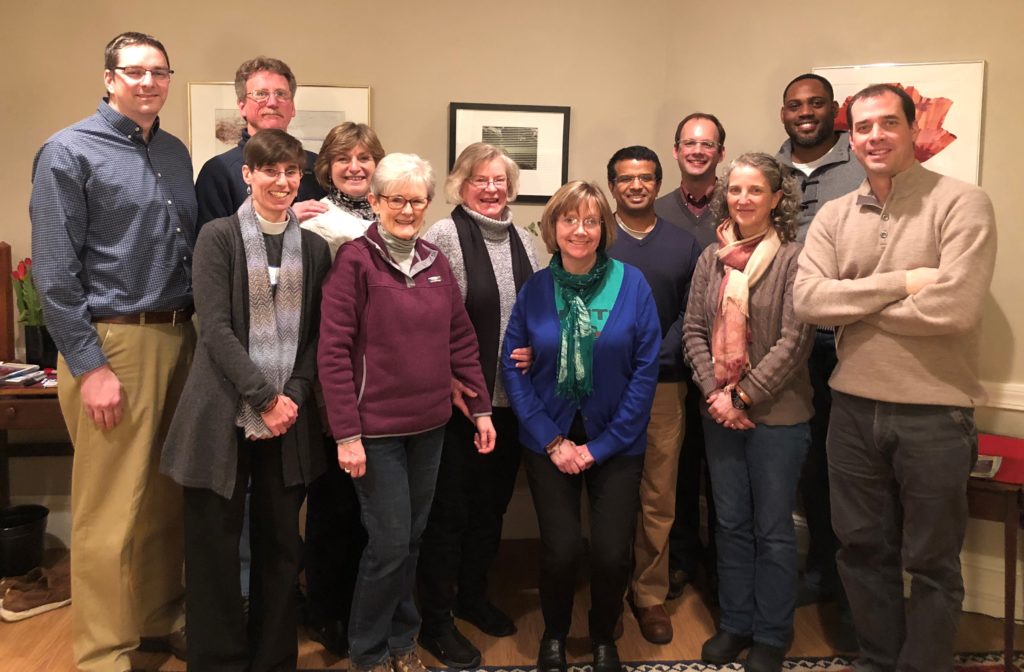 Our Vestry
The vestry of St. Paul's includes the wardens, the treasurer, the clerk, and several general members with rotating three-year terms. The vestry is a good blend of newer and long-time parishioners, usually including a student member, committed to the responsible stewardship of the church, both practically and spiritually.
Officers
Arthur Fergusson, Warden (vestry@stpaulsbedford.org)
Candy Walker, Warden
Candy has been a member of St. Paul's since April of 1979, joining the church in anticipation of baptizing her expected first born. She has participated in Advent Fair activities, taught church school for many years, has been a warden on two previous vestries, was on the search committee that called our present rector, is active with our Outreach committee, and serves on the altar as a Lay Eucharistic Minister. She is a retired teacher from the Bedford Public Schools and resides in Bedford with her husband, Bill.
Carrie Mathews, Treasurer (treasurer@stpaulsbedford.org)
Carrie's family has a strong history at St. Paul's – her grandfather helped build the church in 1955! She has been a proud parishioner for more than 40 years and is a member of the Stewardship Committee, co-director of the annual Christmas pageant, altar server, and junior choir "mom". Carrie especially enjoys watching her two daughters contribute to many different aspects of the St. Paul's community. Outside of church, Carrie works at John Hancock as a Director in the Strategy & Transformation group.
Katie West, Clerk
Katie has been a member of St. Paul's since 2008. She serves as a Lay Eucharistic Minister and enjoys participating in a variety of parish activities including Women's Group gatherings, spiritual spa nights, organizing the "cookie walk" table at the Advent Fair, and coffee hour hosting. She is a pediatric audiologist and is the Audiology Site Manager at Children's Hospital at Lexington.

Members at Large
Judy Criscitiello grew up in Bedford, left after college, and returned just after her son Mack was born in 2002. She started attending St. Paul's with Mack in 2009 and has very much appreciated the loving support of the St. Paul's community. Judy was involved in the Christian education program when Mack was in elementary school, and has served on the gardening ministry and courtyard garden development team, as well as participating in various family and women's group events. Judy works as an OT/Hand Therapist and enjoys playing the fiddle and spending as much time as possible outdoors.
Don Cullis
Andy Jeffrey joined St Paul's in 2012 with his wife Tyne after moving to Bedford. He serves on the property committee and is active in the men's group. Outside of St. Paul's Andy enjoys spending time with his two young children being active outdoors.
Heath Luedde has been a member of St. Paul's since 2013. He serves as a Lay Eucharistic Minister and previously as a Middle School Youth Group teacher. Heath has particularly enjoyed helping with the Special Olympics and attending the men's retreat. He is a Sales Manager and the Assistant Director of Consignments at Bunker Hill Sales in Boston.
Sima Seymourian has been a member of St. Paul's since 1999. She has been involved with Bedford Day, Women's Group, Advent Fair, Thrift Sale and Coffee Hour. Her passion is working with children and youth. She taught in the Sunday School program for many years and now works with middle and high school youth. She worked with students with special needs in CASE collaborative for 19 years. She has recently returned to working in her family's jewelry business.
Jennifer Wylie

Our Staff
Michael Monroe, director of music
Marge Heckman, parish administrator